Dimulakan dengan Bismillah..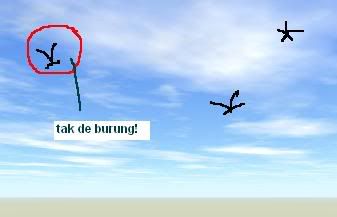 Entah berapa kali aku dongak kat langit harini.Tiap kali kuar umah,aku dongak ke langit.Sengaja dok perhati kalau2 ada burung yg terbang kat langit.Jgn kata yang terbang, yang bertenggek kat dahan pokok ataupun wayar telefon pon tak ada.Terus aku perhatikan...dan yeslah! Ada.. ada kapal terbang je.Persoalannya, di manakah burung terbang?Adakah burung2 telah digantikan dengan burung teknologi yang perutnya boleh mengisi ratusan penumpang?Sebab sepanjang yg aku perhatikan, ada 2 ke 3 bijik kapai teghebang dok lalu lalang ataih paler.Bersoaljawap la aku ngan kepala aku sendiri
Mana burung weih?
Apsal?
Tak de per
Sejak bila ske tgk burung?
Sejak bila2 pon tak
abeh tuh?
aku heran je...kalau bukan kat langit,ada port lain ke yg lagi mahsyuk burung dok lepak [terbang]?
manalah aku tau...
Tak puaih ati tol.Aku bukan kempunan ke, mengidam ke haper nak tgk burung,cuma terdetik hati..kenapa tak lagi nampak burung terbang kat langit.Lama tau dak,aku buat pemerhatian.Sampai keje aku harini kuar masuk umah nak tgk langit....-end-
The Cousins
Ateh akhirnya tadi dah dihangkut balik oleh husbandnya setelah tido satu mlm kat umah aku.Sgt sedih tgk lambaian sepupu2 aku... Si ikal mayang Ezwa yang kuat potpetpotpet, Adik Puteri yang digelarkan sbg Si Kecik Kerek, dan Si mata bulat, si wajah ayu adik Qisty,Chumey.... cayanggg sama kekanak chumey ini sumer.
Ateh, u deserve life better than this.Can hardly understand your situation.Dengan anak yg dah 3, campur lagi ngan 2 anak tiri... life must be dem! Kesian kat makcik terchenta tuh.Sayup hati aku tgk anak2 dia.Tapi perasaan dalaman yang aku rasa ni tak terzahirkan.Sesungguhnya, love you ateh and all 3 cutie cousins,really.Sometimes...marriage means Unfortunate Event .Nasib seseorang....
Adik Qisty sgt chumey.My cutie cutie pie Qisty.Wajah baby boy yg ayu.Tententeng...Dasat betul, best borak @ lepak ngan si Kecik Kerek 2 years baby girl tu.Baru 2 tahun,style ckp cam makcik umur 32 tahun.Mahsyuk deh borak ngan Puteri Si Kecik Kerek tuh.Muka tak nak kalah.Penuh ngan aksi-aksi nak menang selalu.Cayanggg....~
Last : ini kali kedua aku menaip benda yg sama.Daya ingatan aku makin baik.Aku boleh menaip semula isi entry kali ni ngan ayat2 yg hampir 98% sama.Tahniah utk aku.Kenapa aku taip 2 kali? Sebab 2 kali lagi baik cam minyak seri murni. Bukan...sebab tadi blackout.Hidup tanpa bekalan letrik, umpama hidup dlm gua zaman purba kala.Chaww...kit road!